Raleigh Lawn Drainage Systems
Each property is different, and will require a customized lawn drainage system. Proper drainage is an important part of any landscape, as it allows excess water to easily drain away instead of sitting on top of turf and adversely affecting its health.
Evergreen can design and install the ideal landscape for yard drainage, capturing all water channeling it off of your lawn and over the curb to be collected in storm drains.
Drainage Solutions by Evergreen

In today's environment of high density living, being able to control water flow is crucial. Too often water is channeled through backyards from one Raleigh home to another, compounding the drainage problem for those downstream.
Our team of professionals take all the factors into account when designing your custom drainage system. We create a system that will accept water from adjacent neighbors and drain it a — without negatively affecting others at lower elevations.
We consider every drainage solution and identify which system is best for your property. Some of the lawn drainage systems we install and serve are outlined below.
French Drain Systems

Typical use: French drains are used in areas that tend to stay continually wet.
How it works: A trench is made at the bottom of the swell that tends to stay wet. A small amount of rock is added to the bottom of the trench and a sleeved slotted pipe is installed. Rock is than added to a few inches of the surface. A small amount of dirt is than added to grow grass.
Limitations: This system accepts water slowly and will not help with storm water.
Storm Water Collection Systems
Typical use: Usually installed to handle water from adjacent properties, water off impervious surfaces, or water collected in catch basins.
How it works: Water is collected from catch basins and gutters and piped underground. The advantage to this system is that water can be carried away when an ideal grade at the surface has not been established. Also water can be moved without the risk of erosion.
Limitations: This system is only as good as its collection systems. Catch basins must be placed in the right locations for this system to work. Drains must be continually monitored for debris.
Foundation Drains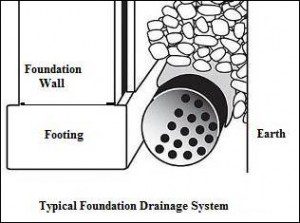 Foundation drains are required on every home today. A foundation drain is a french drain system that is installed next to your foundation in order to keep this area dry and protect it from a buildup of water.
A tail line is installed off of the drain system and can generally be found at the lowest corner of your foundation. This line carries the water away from your house. It generally extends about 10-15 feet away from your home and daylights to the surface. It is important to always keep this line open and free from debris in order to keep your crawl space dry.
Tail lines are an important part of a foundation drain system. These lines are often cut to install irrigation systems, telephone and cable TV service lines, or pet containment systems, and are simply never repaired. If damaged they may be the cause of continual wet areas within the yard.
If you're experiencing drainage problems in your yard or around your Raleigh home's foundation, call Evergreen! We can take action to provide the proper water drainage needed to keep a lawn healthy and protect your home from potential water damage. We serve clients in the NC Triangle, including cities like Raleigh, Cary, Apex, Morrisville, Holly Springs, Fuquay-Varina, Garner, Knightdale, Pittsboro, Wake Forest, NC and beyond.